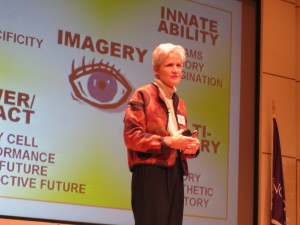 Marilyn King's genius reaches far beyond sports.  Through her personal experience, comprehensive research, and non-stop study of human behavior, Marilyn has developed a unique but stunningly simple technology that has enabled thousands around the world to create "Olympian" results in their personal and professional lives.
Marilyn's Olympian Thinking brings together ageless wisdom with exhaustive research to reveal the secrets of high achievers and extraordinary human accomplishment.
Over the past 30 years, Marilyn King has:
Inspired thousands to realize they can make their dreams come true
Motivated Fortune 500 companies to create an environment that nurtures peak performance
Coached corporate leadership teams in creating new standards for success
Re-energized success-minded women throughout the world
Transformed the lives of inner-city youth
Skyrocketed athletic performance for amateurs and professionals alike
Marilyn King consults internationally sharing the promise and practices of Marilyn's Olympian Thinking with leaders in business, education, and peace.